ILovePDF is a feature-pack suite for managing, securing, optimizing, editing, and converting PDF documents. The freeware app is handy and time-saving and boosts the productivity and functionality of your system. It converts the documents into PowerPoint, Excel, Word, and JPG, and turns the images into TIFF, JPG, and PNG formats into PDF files. The supporting API offers integration with PDF Reader and some other 3rd-parties tools and end-to-end encryption makes your data safe and secure as there is not any sharing of data with 3rd-parties developers.
ILovePDF Simple Interface
The installation process is very simple; just press the 'Download' button, open the .exe file, and start the installation process. Launch the program and you will find a simple and easy-to-use interface including all basic tools. It offers all capabilities of reading, previewing, and editing PDF documents. A PDF merge is also available, just select or drop a file and start your work.
Multiple PDF Tools
Use unlimited PDF tools that make your work easy and quick. It is time-saving and has not any limitations in place. These tools can be used easily on any device;
Annotate PDF is for highlighting the text in PDF while adding notes, leaving comments, drawing, and inserting images to PDF. You have the ability to select the format for annotation.
Sign PDF is for adding a signature to your PDF files right from your device.
Fill PDF Forms is the best feature for filling online forms within a few moments.
Merge PDF is for combining multiple PDF documents and merging them into one PDF file.
Split PDF is splitting as well as extracting pages to PDF documents.
Compress PDF offers a PDF Compressor to select and control the size of files while keeping the quality of the format.
PDF Converter is for converting office documents into PDF files and editing them in Word, Excel, PowerPoint, and so on.
OCR Scanner scans the documents and turns any text or image into editable PDF files with complete accuracy.
Extract Images is for extracting images from PDF documents and converting them into exclusive as well as multiple PDF files.
Rotate PDF makes the documents in an adjustable position.
Unlock PDF removes the password for uploading a protected PDF.
Add Page Numbers is for customizing PDF files with a selection of position, typography, and size of the numbers of pages.
Watermark PDF is for adding watermark to PDF files while selecting the position, transparency, or typography to get the best outcomes.
Share PDF enables you to connect with Google Drive or Dropbox account for sharing your PDF files using Cloud.
PDF Reader enables you to read your PDF files, edit as well as modify the files as you need.
Editing of PDF Documents
Various editing tools such as lines, shapes, boxes, images, icons, and text are available for editing your PDF documents. You will find a great variety of images that can be resized and you can move any element using your mouse. The editing tools help you to edit different parts of your selected images such as color, border color, orientation, format, line thickness, and transparency. Additionally, adding the watermark can protect your document from copying or using it without permission.
Fool-proof Security
The program prefers security while offering a secure HTTP connection. All of your data will be saved on the servers of the program. The end-to-end encryption covers your entire private content and saves it from prying eyes. The encrypted data will be removed from the server after a specific time. You can use a password for more security. You can use the program in both situations online and offline.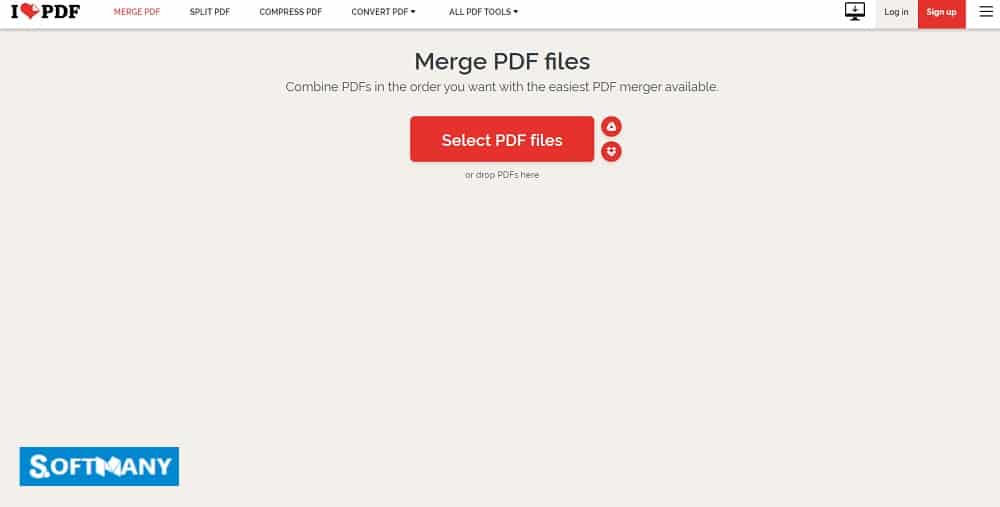 ILovePDF for Business
Enhance your business community using the different tools that are used by multiple team members. Just open the control panel that enables you to edit, convert, and organize multiple documents easily. It makes your business activities reliable and smooth and you can easily collaborate with your customers and co-workers.
Subscription Plan
The program offers a free plan with multiple tools, but you need to purchase the subscription plan for using advanced features such as batch processing and file size. The free plan is best for single users or small-level businesses. The subscription plan is available for $6.61/month and $53.11/year.
Language support
It supports around 25 languages for users which make it easily understandable. The supported languages are English, Spanish, Catalan, French, German, Italian, Portuguese, Japanese, Russian, Korean, Chinese (Traditional & Simplified), Arabic, Bulgarian, Dutch, Greek, Hindi, Indonesian, Malay, Polish, Swedish, Thai, Turkish, Ukrainian, Vietnamese.
Final Words
ILovePDF is the best solution to manage, organize, and edit PDF files. It is cross-platform compatible with Mac and Windows OS. You can use it for personal as well as business purposes and equally available online and offline. Multiple amazing tasks; documents converting, viewing, reading, formats, and so on are ready to help you in the lightweight program.
Pros
Fool-proof security
Full-featured suite
Cross-platform
Cons
The free version is limited