Vivaldi Web Browser for PC Windows 7/10/11 is an Opera-like browser with flexible rich functionality and gives fast surfing online. Clean and easy-to-use browsing with a lot of new features making your search easier, faster, and safer. Presented by Opera developers. Vivaldi 64-bit browser makes you power users by its latest features. Such as quick commands, tab stacks, take notes, adaptive interface. As well as spatial navigation and a lot more to try and enjoy fast surfing. 
Vivaldi Web Browser for PC Quick Commands
Vivaldi Web Browser Quick Commands option is reliable for keyboard users. It lets the users search quickly via different settings, history, open tabs, bookmarks, and much more. The option is customizable allowing you to create your own commands and run them quickly.
Notes
A handy Notes panel enables you to take notes to add screenshots while browsing. The notes automatically remember sites you are browsing and let you organize and find sites by tagging them.
Speed Dials
Create various Speed dial groups, and arrange your favorite sites like Sports, News, and Tech. Entertainment in different backgrounds like Offices, schools, Homes, etc. A potent option to make it possible for you to add a folder as a Speed dials entry.
Tab Stacks
Tab Stacks take out you from bothering of finding tabs from the collection of unorganized messy tabs. Use Tab Stacks and organize tabs. You can also group several tabs under a single tab while dragging tabs to another for easy grouping.
Built on Web Technology
Use of built-in technologies by Vivaldi download like JavaScript. React for creating the user interface, Node.js, Browserify. A large list of NPM modules makes the browser more fast, more convenient, and more reliable.
Customization
The high degree of customization makes the Vivaldi more strong and more powerful in the market. The best combination of simplicity and modern style. Let's you enable to tweak and change any part for creating your own unique experiences.
Simple Interface
An extremely adaptive interface offers a plethora of themes. Add your favorite site to the sidebar, changing the position of any toolbar element. As well as the size and appearance of UI elements.
Navigation
A configurable search option helps you to navigate fast. Keyboard shortcuts, mouse gestures, and bookmark manager to browse fast. The potent History overview enables the users to explore their browsing patterns.
Security & Privacy
The app gives complete security and privacy by giving full control over settings. The encryption of sync data with bookmarks and Speed-Dial, saved passwords, auto-fill information, History, extensions, and a lot more.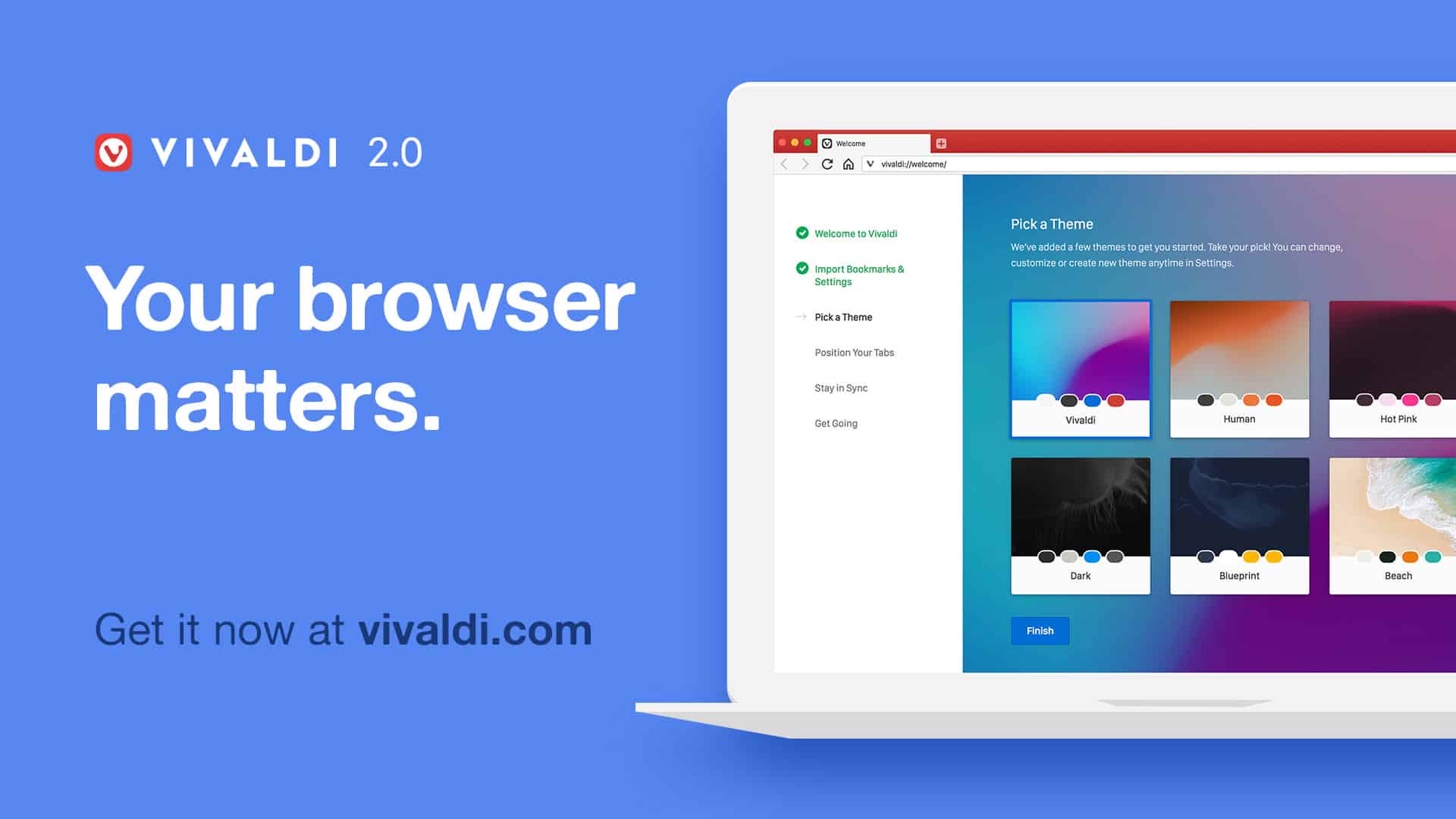 Reader View
Some pages are complex and lengthy and very difficult to understand. The option makes the content readable by removing panels, and sidebars leaving the main context and image.
Onward and Reverse
Easily access onward and reverse from the page of any site. The option also helps in paging through the search results.
Main Features
Fast and easy surfing
Quick Commands
Notes
Speed Dials
Tab Stacks
Built on Web Technology
Customization
Simple Interface
Navigation
Security & Privacy
Reader View
Onward and Reverse