EasyBCD for PC Windows is a powerful utility to extend as well as revamp the multiboot environment between a multi-operating system. The software enables all types of users to handle Windows BCD bootloader, setting up, and dual-boot configuring among all latest as well as old versions of Windows like Windows7, Windows 8, Windows 10, Windows Vista, Windows XP, Linux, Ubuntu, BCD, and macOS.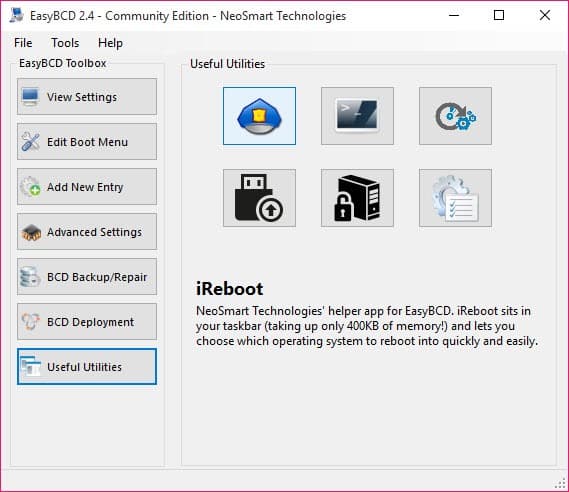 EasyBCD Download and Simple Installation Method
The installation process of the app is very easy and speedy. But Before you can simply click to download an EasyBSD file. After Just selecting a separate partition in the hard disk of your system, point out the default of the operating system, click on the 'Install' button, and the app starts quickly installing on your system.
User-friendly Interface
Including two sections—–on the left side the components of the app, and lists of tools and available data on the other side. The interface is divided into several parts like View Setting, Edit Boot Menu, Add New Entry, Advanced Setting, BCD Backup and Repair, BCD Development, and Useful Utilities. You can change the name and position of sections by clicking the buttons.
Easy & Simple Booting
Multiple management options make it easy to resolve any issue or virus infections, point out correct OS instances in case of a serious failure of the system, and easily boot all types of Windows via presenting new boot entries. The app makes sure booting through any portable device, local storage, ISO images, and a lot more.
Quick Editing Boot Service
Completely handle any difficult issue via troubleshooting Windows, and having control over adding, renaming, configuring, as well as reordering boot entries. Supporting NeoGrub scripting enables the users to control hide partition, change active flags, and create different multifaceted boot set-up. You can customize the Easy BCD by creating a backup and restore points and saving your data.
Main Features
Extend and revamp the multiboot environment between multi-operating system
Simple Installation Method
User-friendly Interface
Easy & Simple Booting
Quick Editing Boot Service
Creating backup and restore points