HP Support Assistant is an automatic as well as quick support for HP notebooks. The main function of the software is to update drivers and other apps of the system and some other features such as maintenance, troubleshooting, and tweaking the performance. The software scans the whole system to find the system's core condition and installed hardware.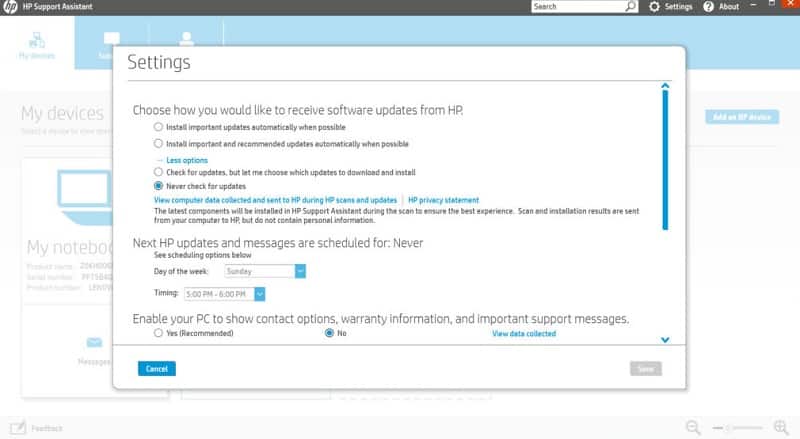 HP Support Assistant Features
Easy Updates
The tool gets rid of your upcoming irritating pop-ups for updating. Just click on the "Updates" from the 'Updates and Tune-ups' section and set the application for updates from HP. You can also set the day of the week along with hours for checking the updates. You can get online as well as offline updates, a diagnostic tool for automated online updates is also available which scans the network connectivity and fixes any other potential problems.
Supports Multiple Resources
The program supports multiple resources and offers an overview of performance for multiple elements of hardware such as battery condition, storage status, audio/video conditions, warranty, and services. You can fix different issues directly connected with the HP forum and other pages.
Free Access
The HP Support Assistant with freeware license available for Windows 32-bit operating system of a laptop and PC, presented for all software users as a free trial for a specific period, free download with potential restrictions. It is belonging to the computer utility category.
Compatible with Windows
With various compatibility with all types of devices, the app has special compatibility with all types of Windows———-Windows 10, Windows 8.1, Windows 7, Windows Vista, Windows XP is mainly operating system to run the app very smoothly and reliably. In addition, it requires a 32-bit and 64-bit setup.
Contact Technical Support
The tool enables you to get tech support by offering 'Contact technical support' which lets you know about any issue that you can't understand how to solve. The HP support gives you detailed information about the problem and the process of fixing it easily.
Main Features
Automatic support for HP notebook
Update drivers and other apps
Easy Updates
Supports Multiple Resources
Free Access
Compatible with Windows
Contact Technical Support