Cent Browser for Windows 4.3.9.248
Cent Browser for PC Windows is a third-party development with some unique and convenient features based on the Google Chrome browser. A free as well as a portable version that works very fast. Compatible with all types of Windows and has not any demand for any special requirement.
Cent Browser for PC Features
Multiple Tab Functions
The program including with several tabs options such as scroll tab bar help you to search your require data through scrolling mouse wheel, use New tab for opening URL in Incognito mode, right-click is for low memory consumption and executing commands, and the tiny boxes above the browser enables you to locate the require page through the exact tab without opening them one by one.
Flexible & Effective
The performance of the Cent browser can be explained through two words flexible and effective. With promising and very welcome features, the app offers the easiest and unique browsing experience. Providing unlimited options the app with simple UI is very easy to browse.
Compatible with Windows
With vary compatibility with all type of devices, the browser has special compatibility with all type of Windows———-Windows 10, Windows 8, Windows 8.1, Windows 7, Windows Vista, and Windows XP are mainly operating system to run the app very smoothly and reliably. In addition, it requires a 32-bit and 64-bit setup.
Mouse Gesture
Mouse Gestures enables you to execute commands such as navigation back and forward, switching of open tabs, reloading, view downloading, show browsing history, full-screen mode. All these functions can be done just right-clicking and dragging though mouse without using a keyboard, menus, and toolbars.
Special Features
Along with convenient features, the app offers some special feature like QR codes generator for creating your own QR codes, Incognito Tabs for opening new tab without opening a new window, right-click for accessing towards search engines, boss key for hiding windows, as well as install extensions of Chrome Browser for signing into Google account.
Free of Charge
The Cent Browser with freeware license available for Windows 32-bit as well as the 64-bit operating system of a laptop and PC. Belong to browser category presented for all software users as a free download.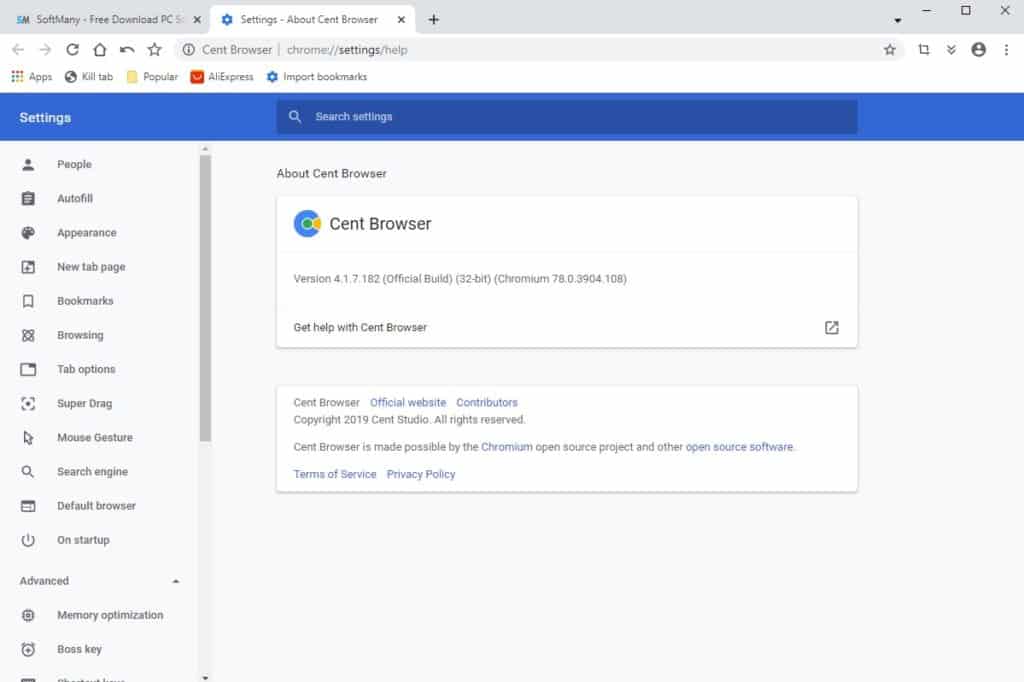 Main Features
A third-party development
Based on Google Chrome browser
A free as well as a portable version
Multiple Tab Functions
Flexible & Effective
Compatible with Windows
Mouse Gesture
Special Features
Free of Charge
Releated other Version Links