BeautyPlus Magical Camera Apk offers fantastic features to enhance your beauty while editing the entire photo magically. Improve your looks with even small modifications to your photo and make your eyes bigger, brighten your complexion, contour your face, and so on. The popular selfie camera app for Android users is used by 300 million users including makeup artists, professional photographers, and selfie experts.
BeautyPlus Simple Interface
The main screen is very simple and initiative with a plethora of features that need no skill to follow. It is including with three main tools; a camera icon, a photo editor icon, and another app's icon. A single click on the photo editor icon will take you to the 'Easy Editor' option for manually editing. The unassuming interface helps you to work like apps on social media and edit your image to make it attractive and unique. You will find all basic features including cropping, filter addition, image enhancement, and application of effects. The app allows you to make up your face and reduces blemishes from the photo.
Retouching of Selfie
The app is the favorite for selfie lovers as it offers several amazing features;
Makeup kit including lipstick, eyebrows, eyeshade, hair dye, blusher, and a lot of others to enhance your face beauty.
Beautify is used for giving your photo a gorgeous look.
HD Retouch gives a single tap for taking natural and stunning photos.
Height is the height-adjusting tool.
Slim makes your waist, arm, face, legs, and other body parts slim and smart.
Smooth allows you to make your skin smoothen and refine the pores on your face.
Reshape is the reshaping tool for adjusting your eyes, nose, lips, and so on.
Acne removal is for removing acne and blemishes from your face.
Eyes are the best feature for removing dark circles around your eyes and you can enlarge the size of your eyes also.
Teeth Whitening & Correction tool makes your smile gorgeous.
Photo Editing
You can edit your photos with the help of multiple fantastic tools;
The cutout is for removing any unwanted object and replacing the background of your photo.
Remover uses AI and other image processing technologies for removing any person, building, or any other object from your photo.
Blur makes any part or background of your photo blur.
Styles use multiple effects such as Sky, Cartoon, and Oil Painting to give your creation an artistic look.
AR Effects make your selfies or photos attractive using AR technology and apply special effects such as rabbit ears, flowery crowns, and trendy sunglasses. And so on.
Enhance is used for retaining all details with one click and enhancing your photos automatically.
Filters offer up to 200 themed filters for creating diversified styles for your photos.
Templates make your photo editing trendy with just one tap.
Text is for adding text to your photos with the help of aesthetic templates and styles.
The brush tool enables you to draw or paint on photos.
Background features can change the colors and patterns of the photos.
Create Stickers & GIFs
Create fun with the app along with editing images just like Snapchat's filters, you are capable of adding filters and funny stickers to your photos. Click the camera button and create amazing GIFs and record videos also. The front and rear cameras enable you to edit everything on the go. Multiple-face recognition feature allows for taking photos in groups and using the selfie timer for taking hands-free images.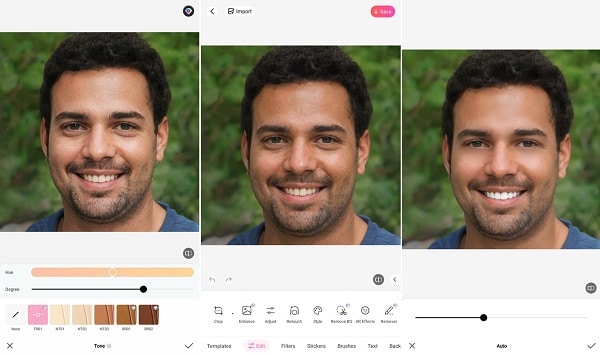 BeautyPlus Premium Version
The basic version of the app is available free of charge. You can get the Pro Version if you want to avail of advanced features; Reshape, Firm, Filter Package, and so on. The subscription plan can be avail using your iTunes account with auto-renewal of the subscription for one month or one year.
Share on Social Media
The integration with several social media apps such as Facebook, Instagram, or Twitter enables users to share their edited photos on any platform. You can save your created masterpieces on your device. Moreover, the lightweight app respects the privacy of the users a lot. Here you need not worry about your personal information and advertisement bombarding. Just install the app and enjoy unlimited fun while editing and creating new styles of photos to share on any platform and get a lot of appreciation from your friends.