360 Total Security is a leader in an anti-virus program to ensure your online safety and security. With a fresh and good-looking interface, the powerhouse of anti-virus protects your system from viruses, trojans, worms, root-kits, and a lot of other spyware during surfing online as well as checking email. Automatically detect threats with an active contribution to the advanced Artificial Intelligence technology. It also decreases the notifications of unwanted apps and programs. A reliable antivirus utility providing strong security protection in terms of blocking ads, malicious websites, robust web protection, fast scanning of portable devices, password protection, and protects your system from phishing as well as virus attacks.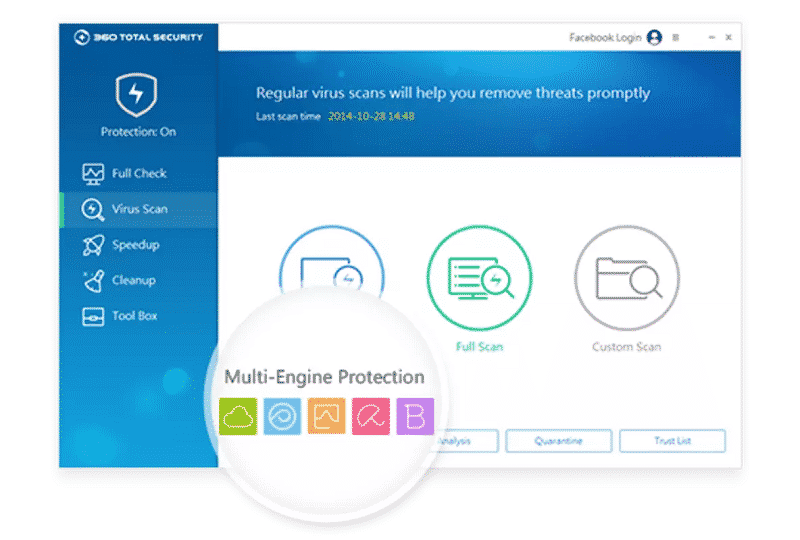 360 Total Security Features
Outstanding Protection from Viruses
An updated anti-virus program automatically protects your system from continuously developing infected attacks. No doubt, a constant way of providing defense against hackers. The three engines let you scan apps, games, and documents, and erase any type of malicious content. Furthermore, in case of any unknown threat, the program very quickly analyzes it, creates a cure, and then pushes it to the users to protect them. You can save your online surfing via a Wi-Fi scanner which reviews the network encryption, strength of the password, and preventing ARP spoofy as well as Captive Portal actions.
Safe Searching & Surfing Online
Keep your online surfing and searching safely. The program instantly searches the malicious or infected websites and gives you an alert notification to keep you clear of them.
Easy-to-Use
A simple dashboard with all accessible functions with real-time security updates is available for you. Automatically scan your email from dodgy links and attachments. In addition to the Tune-up option which removes the unwanted files that might be slowing down your operating system
Fastest Performance
A wide range of scanning features remove all junk and discover security threats in moments to speed up your computer work-station. While booting an automatic scan starts that is useful for checking security alerts. To scan text content the latest scanning engine, EXE file scanning, and improved memory usage cause low damaging your PC and complete tasks in the fastest way.
Security Updates
The fresh and fast feature Patch Up helps in managing as well as keeping security updates on track. It combines the Microsoft and Adobe security updates together to keep your PC updated just with an exclusive click.
Main Features
Powerful detector and scanner
Detects all the malicious content
Fast & Effective
Outstanding Protection from Viruses
Easy-to-Use
Security Updates