Quick Heal Total Security is the best solution to surf smoothly, safe online banking, and protect your PC in the fastest way. The lightweight app with powerful capabilities enables the PC & Laptop users to enhance the performance of their device, informs external threats, stops 3rd-parties attack, Wi-Fi security, provide a call blocker, and a lot more for fool-proof privacy features. The 4 scanning modes; Full system scan, Custom Scan, Memory Scan & Boot-time scan are available to run your system like a breeze. It is compatible with all types of Windows; Windows 7, Windows 8, Windows 10, Windows Vista, and Windows XP.
Fool-Proof Security
Customizing as well as auto-scanning modes make your system completely protected. Customize scanning clears your files and directories and monitors your default system security. The auto-scanning detects the parts of the system with viruses. A buit0in firewall gives your system security from any type of external threats that are connected via network connectivity. It also offers Stealth Mode to stop hackers from tracing your system. Additionally, DNAScan and other Behavior-based antivirus tools are also part of the app to protect the signature-based models. It works like a hinder for rogue ware that spreads malware to your system using the Automatic Roqueware Scan.
Flash Drive Protection
Flash drive is the best portable device for taking your data easily anywhere. It helps you to install or inject data to other devices. But it is a big source of spreading viruses to your system. Quick Heal can scan the flash thoroughly and clears it automatically before you send or receive content through it. It also blocks the malware from infecting your system via flash drive.
Quick Heal Total Security Simple & Reliable
The program with a lengthy downloading process offers a simple and reliable working process. It is a central dash-board program that monitors the working areas of the system and very quick access to the additional parts; performance tuner, malware scanner, and so on. The dashboard is including with five main buttons that access deeper menus quickly and enables you to run virus scanning options. You can check the system's health using the indicator housed on the 'Home' page.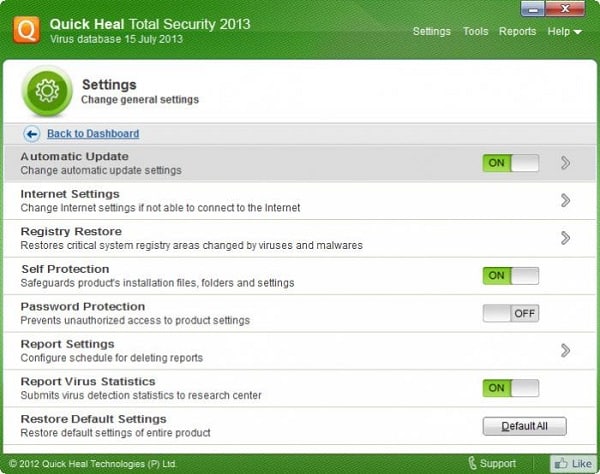 Different Protection Tools
The program is equipped with multiple amazing tools that boost the performance of your device. They give security to your system from any types of malicious content, malware, spyware, viruses, and so on;
Total Ransomware Protection stops the attacks of critical Ransomware and protects your important data. It works in real-time and used Behavior Detection Technology for detecting new as well as unknown Ransomware.
Anti-Keylogger enables you to save your data from keylogger malicious programs that are part of spyware and used for stealing sensitive information.
Malware Protection is the strongest defending mechanism against different types of ware such as malware, spyware, riskware, and keyloggers.
Email Security is a real-time security feature for keeping your inbox safe from emails including malicious codes and infected attachments.
Browser Sandbox makes your online surfing safe and interrupted. It stands like a wall between the operating system and malicious content.
Advanced DNAScan technology is the combination of behavioral and characteristic inspection, it monitors the risky programs and blocks them before they infect your system.
Web Security is the auto-hinder for the sites including malicious codes.
Safe Mod Protection stops unauthorized users to change the security settings of Quick Heal.
Improved Scan Engine is a type of revamping engine. It makes the scanning process faster by stopping rescanning safe files again and again.
Silent Mod prevents notifications and other prompts and saves your system from interruption.
Parental Control is a well-designed tool integrated with system accounts. It blocks certain categories of websites that are risky and also it locks the different system programs also.
PC Tuner offers tune-up tools like disk defragmenter. It boosts up the performance of the system by detecting malicious items from the file registry and hard drive and cleans them within a minute.
Customer Support
A comprehensive customer support program is available under the telephone icon on the bottom of the dashboard including with email tickling system, web-based knowledge base, and live chat. The plus point of the feature is to get technical help from a team of developers for your system using the live chat option. They will remotely access your machine and configure a scan of a virtual drive.
Pricing
The program is available with a free trial version for 90 days. It offers different subscription plans such as Quick Anti-virus for a 3-year license for one PC, Quick Heal Anti-malware for one year for $30, and so on.
Auto-backup
The smart auto-backup features make your important data secure in case of a ransomware attack. It offers an extra shield of protection and creates a backup for the entirety of your files and documents that can be easily restored in case of any system crash. Additionally, you can import your Quick Heal settings from one PC to another computer.
Final Words
Quick Heal is a lightweight, yet powerful program with anti-virus, anti-malware, anti-rogue ware, and so on. It boosts the system performance using four types of scanning modes and multiple protection tools.