Talkatone Apk is a freeware calling as well as a messaging app to turn your Android or tablet into a phone and make calls around the world. Other messaging and calling apps like Skype, Viber, or Facetime give you a free calling option only if the receiving person is also using the same app. but, with Talkatone you can call anywhere anytime no matter what app the other person has.  
The Simple Process of Talkatone
After the download and installation process, open the app and complete registration by entering your email address. The app sends you a USA or Canadian phone number and you need a strong Wi-Fi network to call around the world. You need not spend a penny on your cellular data, just connect the device to your Wi-Fi and enjoy a lot. The facility is specifically for citizens of the USA or Canada when they are out of the country. So it works better in this country than in any other country in the world.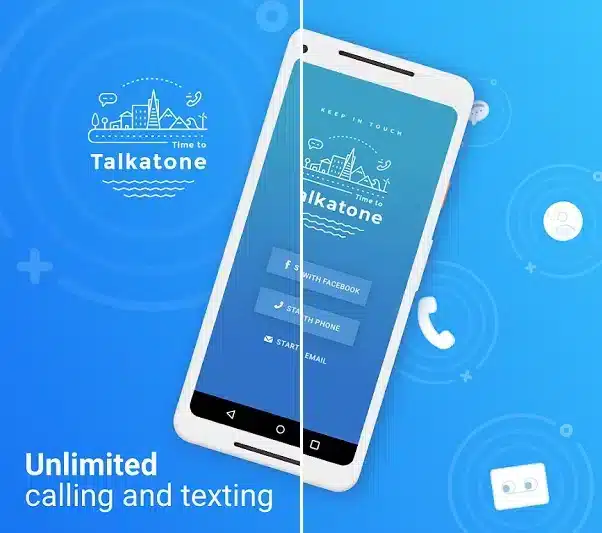 User-friendly Interface
The user-friendly interface gives easy access to all options available in the app. you can call free of charge to any person with United States phone number and send messages including photos, text, animations, and so on to anyone. The app asks for permission to access your contact book to call any person from here. In case of burning the existing number, open the settings of the app, and get another number easily. You can change your already existing number also.
High-class Voice Quality
You will find improved audio quality while calling anywhere. Specifically, the latest version with better redundancy and enhanced sound compression removes any type of related issue such as static and background noise.
Serves Freeware
Earlier, international texting and calling were expensive businesses. It is over now, with multiple freeware texting and calling apps you can contact any part of the world without spending any penny. Talkatone is one of them with little extra features such as it offers 60 free minutes per month to call on landlines or phones. In case of expiring the free minutes time, you can get them again while paying a little payment. Additionally, support for SMS and MMS enables the users to create groups while adding friends and family and start a group chat no matter if every participant has Talkatone installed or not. The app also offers different convenient rated packages for International Calling & Travelling Overseas.
Disposable Telephone Number
The telephone number offered by the app is disposable that can be changed anytime from the settings of the app. it burns once for free by the app and you just need to go to settings and enable it by pressing "Burn Now". Activate the number and share your sad or happy moments with your friends and family.
Make International Calls
The app was launched in 2010 to offer free calling with HD quality to any part of the world such as Mexico, the Dominican Republic, Honduras, Nigeria, Colombia, Guatemala, and so on. The app offers real-time communication while supporting any type of device including iPhone, iPod Touch, iPad, and Android using your Wi-Fi and 3G connection.
Final Words
All-in-all, Talkatone is the best choice for calling as well as texting around the world for both Smartphones and landline phones. With simple registration process gets a U.S. number to make your traveling and business matters reliable and smooth.  You can use several other alternatives of the app including Skype, Whatsapp, Viber, or Zoom.