Google Assistant Apk Go Android is the latest presentation of series of lite versions with the name of Go. Just press or hold down your Android's home screen button or say "Hey Google" and access your Assistant. The app performs multiple tasks such as sending birthday cards to your friend, hand-free calling, controlling home devices, entertainment, and much more. The positive point of the app is using fewer resources and batteries.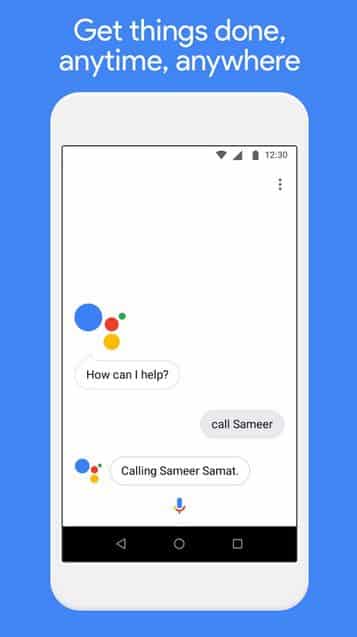 Google Assistant Apk Features
Turn on Audio/Video files via your Voice
A great variety of audio and video files is available. Just say your required file to Google Assistant and enjoy your favorite audio, playlist, and podcasts. You can adjust more reliable tunes for different activities such as cooking, studying, or working out.
"Play workout audio"
"Set volume to 5"
Simple Process of Communicating
Make hand-free calls, send messages, email attachments, and a lot more via the easy and simple process of your Assistant, and stay connected with your friends and family. Use the following permissions.
"Read my unread texts"
"Call Carly"
Text Sam 'On my way"
Easy Access to local Info
Get knowledge about any social activity such as business, traffic, maps, restaurants, and entertainment with detailed explanation. Now you can complete your work while sitting relax on your seat, book a ride, find near parking, book a seat on an airplane or train, or such more services. Follow the permissions as below.
"How's the traffic to work"
"Where's the nearest coffee shop"
"Give me directions to the airport"
Manage your Daily Activities
Manage your calendar according to your daily or important activities and smoothly work without forgetting your important incidences. Daily reminder alerts you about your routine, and you can also make your life easier via take notes, setting timers, adding items to your shopping list as well as setting alarms.
"Remind me to drink water every morning"
"Add eggs and bread to my shopping list"
"Set an alarm for 7 AM"
Get Real-time Updates
The Google Assistant gives you the fastest and most real-time information such as weather forecasts, finding videos, sports news, web information, language translator, and many others.
"What's the weather this weekend?"
"How much is $50 in euros?"
Tell me the latest news"
Main Features
Turn on Audio/Video files via your Voice
Simple Process of Communicating
Easy Access to local Info
Manage your Daily Activities
Get Real-time Updates