Whatsapp Aero Apk Download is designed by a Turkish developer Hazar Bozkurt in 2019. The app is the modded version of Whatsapp and doesn't require the installation of the original one. It means it works as a secondary app. The app has developed with the assistance of FMWhatsapp and a lot of other awesome features such as accessing to Privileges menu, privacy, message scheduler, replies to contacts automatically, and customization options.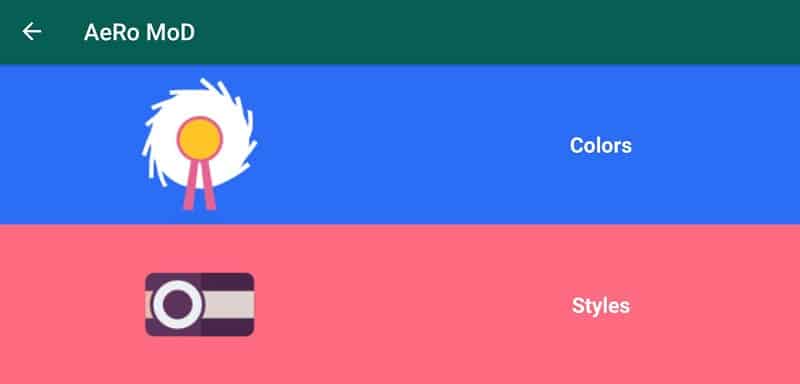 Whatsapp Aero Apk Install
To install the APK follow the underneath steps
Open Android settings.
Go to Security and then Device Administration.
Toggle on the option "Unknown Sources".
Go to Storage, open downloads, and locate Whatsapp Aero APK. Click on the given link and start downloading the APK file. The process will be based on the speed of internet.
After installation create your account. Enter phone number, wait for OTP, insert OTP and restore your data.
The official Whatsapp and Whatsapp Aero APK can be used on the same device.
Unlimited Sharing
The app basically used as an instant chatting app along with some improved features that increase the functionality of the app. You can chat, call, send and receive media files, and so on. The awesome feature of the app is to send audio/video files and images without any hurdle of size and number. As it is in the original Whatsapp you can send videos or images in a limited number. The limit terms are lifted now, you can send up to images and a video file up to 100 MB at a time.
Intuitive Interface
The app with a stylish and intuitive interface offers multiple features to make your UI more attractive and according to your choice. Icons of the home screen are in different styles that can be easily switched. These are 14 including WA AERO, Telegram, WAMOD, WANH, WACA, NL MODS, and Prime VI to V6, Stock, and Eski WAMD. Additionally, Solid to Gradient colors is available for changing the background along with applies of custom wallpapers. A few colors are available for changing the Status Bar and Navigation Bar.
Furthermore, you can change Header, Rows, Floating Action Button and Status color, styles, and fonts from the Settings of the app. Here you can enable as well as disable contact online, change of profile by someone, and upload status.
Password Protection
You can set a password to protect your personal chat and other content from the snooping of others. The password works like a lifesaver for your personal chatting. Unfortunately, if you forget your password, you will be finding a recovery process that starts with some simple questions. You have to answer the questions that enable you to remember your forgotten password.
Limitless Themes
The app with a large variety of themes along with a custom setting enables you to get your favorite theme from the library of 3000+ and apply it for your UI. You can save or restore the themes also. Moreover, you can check the person name that visited your profile, and the reset option helps you to reset any issue to the default which makes it easy for you to find any issue seamlessly.
Improved Interface
The fresh interface is totally different and attractive. In the first place search for contacts as well as the status of your friends. And the next is for managing individual as well as group calling.
Aero Themes Store
The application similar to other modes offers a huge store for selecting themes. Themes with awesome variety enable users to use them in their chatting.
Use of Emojis
Several unique and awesome emojis are available for you to send your friends and family and express your current feelings in a better way. The app has the option to get emojis from Facebook and add them to your chat.
Fast Performance
The mod no doubt is the fastest app other than any WH mode. Change transition effects from the settings, set auto-sending of a scheduled message to anyone on the targeted time, set auto-reply of any message in your absence, and such other terms of flexibility and usage are available for you to contact your family and family with a more secure and fast way.
Customization
Customization features are in limitless number for you to customize your app according to your choice. You can change the icons of the home screen and notifications. Use a custom DP for your contacts, add fonts of your choice, and unlimited themes are for you to customize the interface as you like.
The attractive customized home screen with 10 different home screen styles gives you the chance of customizing the screen as you want such as changing home screen icons or icons of notifications. Use a custom DP or status for any contact.
Privacy
Aerolnsta is the feature added by the developer for keeping your privacy fool-proof. The app offers a lot of different privacy features such as freezing your last seen, disabling the tag of forwarding Messages, hiding your name from viewed status, hiding date, time, double or blue ticks, even hiding the date or time when you copy a message and see the deleted message from any of your contact.
Backup & Restore
No other social media application Facebook Messenger offers the backup feature. But you can enjoy the titanium backup feature in Aero which restores the data of users automatically. This will save expense for cloud storage and enables you to give all of your chat history, contacts, and media files in the protection of the app itself. Additionally, set the anti-delete option and save your status and messages from deleting accidentally.
Security
Lock the main screen with the help of a fingerprint or PIN pattern. Make your security more powerful via setting a Pattern Wallpaper. For this purpose open the app, next Privacy option, and tap to Change Lock/Pattern.
Main Features
Unlimited Sharing
Intuitive Interface
Password Protection
Limitless Themes
Use of Emojis
Fast Performance
Customization
Privacy
Backup & Restore
Security
Change transition effects