ShareMe Apk is the best option for transferring unlimited data to different devices. It is developed by Xiaomi Inc and works 200x faster than Bluetooth. It is the updated version of the commonly known Mi Drop application. The freeware app with lightning speed sends your data to any other device as it has become the favorite app used by one billion users around the world.
ShareMe User-friendly Interface
Thanks to the simple and user-friendly interface for giving easy access to all basic options; open, view, and install. It allows you to manage to search, view, send, and receiving of data easily. The main screen is categorized into several parts such as Send, Receive, and so on. You can also customize the interface according to your requirements to make it a permanent tool for your use. The botherless app with few buttons and options facilitates your work without occurring any issues or misguiding.
Lighting Seed of File Sharing
No doubt, multiple file sharing applications are available that make your sending and receiving of important files easy and simple. But all have some issues and can create some complexities. In comparison, ShareMe is the fastest way of sending and receiving files. You can share files 200 times faster than Bluetooth as it has 50mbps highest speed and shares files with a large capacity.
Support Limitless Sharing
No limitations will be occurred in sharing any type of file I.e photos, documents, videos, PDFs, Apps, and so on. With moments share large files with large capacity without sticking your phone. Just tap to files and send to any other device even if it is a file or folder will be transferred within seconds. It saves your time and energy and share videos with HD or Ultra HD quality without losing the quality and enables the receiver to watch it in high resolution.
Support Multiple File Formats
Share your data with any type of file format as the app supports multiple formats such as PNG, JPG, RAW, and so on. It shares data without compressing or losing the image quality. It also enables you to share data in specific file formats including HTML documents, Adobe Files, IOS images, and so on.
Offline Sharing of Data
The P2P file sharing app makes your transfer process easy and simple even without using mobile data or Wi-Fi. It uses a QR code and you need to follow some simple steps for enabling QR codes between the devices for connecting them. In the way, transfer your content and if you have internet or mobile data, it will work faster and even enables you to share your data using your Facebook, Gmail, or Messenger. You need to select files and resources and easily share your data with lighting speed. In case of network disconnection, restart your sharing process from the same position where it was interrupted.
Support all Digital Platforms
We know multiple data sharing apps are limited to specific devices, but ShareMe offers vast compatibility for multiple devices including Android, MAC, Windows, and iOS devices. In Android, all popular devices such as Xiaomi, Samsung, Oppo, OnePlus, Vivo, LG, RealMe, and a lot of others are completely compatible with the app and use the cross=platform for sharing data with each other.
Powerful File Manager
No need of using a separate file manager as the app offers a built-in file manager embedded with several capabilities such as sorting, searching, and giving access to the files that need to be shared. It can organize all files or folders of your device and save entire data even after sending it to others. No need of creating duplicates because of the smart technology offered by the app for file organization.
Support multiple languages
Around 70 plus languages are supported by the app including Bengali, Chinese, English, Spanish, Portuguese, Latin, Indonesian, Korean, Japanese, French, Arabic, Greek, and so on. It makes your data sharing process easy as you can adopt the language you understand and follow easily.
Fool-proof Privacy and Security
The app offers a complete setup for users to manage their entire data according to their needs. So, there is not any interference from third-party and you are sure about the safety of your content. Keep your entire data including images, videos, apps, and all private and secure and manage it as you like. As we know, it can work offline, so there is not any chance of mixing up your data with others.
Avoid Irritating Advertisement
Botherless and reliable sharing of data with the app is possible without any fee. Even you do need not to purchase a premium version for avoiding unnecessary and unwanted advertisements. In other file-sharing apps, a lot of ads are interrupting your file-sharing process and cause a lot of anxiety for you. The app enables you to get rid of the irritating situation.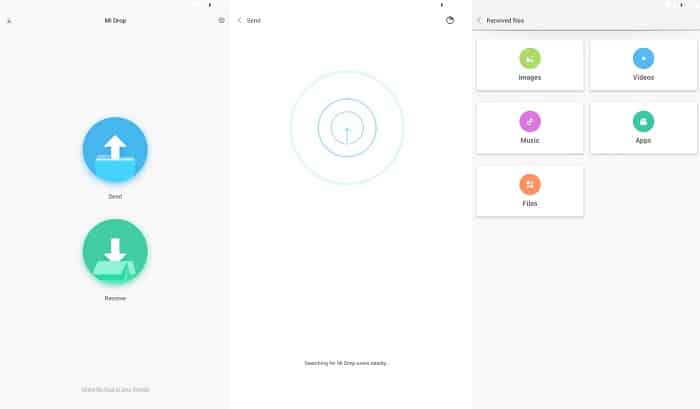 How to Share data between Android Devices
Download the app and launch it on your device.
Open the app on both devices for sharing data.
Select 'Send' if you have to send data or select 'Receive' if you are the receiver.
Select the files that you want to share.
You can share using a QR code also.
How to Share data between Android and iOS
Open the app and tap to 'Web share' option.
The app will generate a network and FTP address for iOS devices
to connect both devices with the same internet connection.
Enter the FTP address into the browser of receiving device,
start downloading data for iOS devices.
How to Transfer data between Android and PC
open the app and click on the 'Share to PC' option.
connect both devices with the same internet connection.
set your password and username, generate an FTP address, and enter the address into the file manager of the PC.
start sharing of files from ANDROID TO PC.